Do you want to marry someone from another country? How wonderful! But being with a man from a foreign country and moving there isn't easy. I wish someone had told me what was laying ahead of me before I got married because it would have been much easier for me and my husband! And yes, we are still happily married!
This site may contain affiliate links to products. I may receive a small commission (at no extra costs to you) for purchases made through these links. I only recommend products I believe in myself.
To marry someone from another country and move there comes with its own challenges!
Finding love is one of the most exciting things that happen to us in our lives. And to our surprise, we might find love in another country.
But what seems exciting at first might get tough later on…
10 Ways Your Life Will Be Changed After You Marry Someone From Another Country And Moving There:
As soon as you marry someone from another country you will find your life forever changed:
1. You will question some of your decisions after you marry someone from another country
We all know about the honeymoon phase and we sure know when this phase is over. I'm not saying your love will end, but reality will sink in… And you might find yourself questioning a few decisions you have made along the way.
I remember shortly after my husband and I got married it hit me "I will live in the US and Germany isn't my home anymore." This one hit me hard!!
Now, you might think "but you knew that before you married your partner!?" Sure, I did. But what that really meant didn't sink in until after our wedding.
Unfortunately, I blamed my husband for my great loss. And there were days where I blamed him for my unhappiness. It took me about a year to fully come around and see what I have gained instead of focusing on what I have left behind.
We still had a good first year in our marriage and I'm thankful for his patience. It takes a big person!!
2. To marry someone from another country might make you a foreigner!
This was something I realized rather quickly "I was a foreigner in a foreign country!"
First of all, I don't look foreign. I'm blond with blue eyes; a pretty standard looking person. I'm not sure if not looking like a foreigner is a good or bad thing… Well, I will let you decide. However, when I speak English I have a German accent.
All the time, I find myself in situations where people smile at me and involve me in a conversation only to realize that I'm a foreigner. Some people quickly end the conversation and move on with their lives. While others are intrigued and want to learn more about me.
Let me tell you, I used to think that my accent was such a bad thing and questioned myself and my abilities a lot. Then, I realized that my accent was one of my biggest assets.
But it isn't always easy to live in a foreign country indefinitely…
3. You will have to find your place in life again
When you move to another country you are not someone's "sister" or "daughter" anymore.
For instance, I have a large family and my oldest sister is well-known in my home town because she has a restaurant. I was always "her sister."
Moving to another country where noone knows you or your family comes with pros and cons.
But the main idea is that you will have to find your place in your community. Who do you want to be? The engaged woman in your new church? The wife of XYZ.
Finding your place in life sounds easier than done.
But only you know who you want to be! Think about it carefully.
4. You will have to start a new life, not "just" a married life
I don't even know where to begin here. There is so much that will change:
You will need to build a credit score
You will need to build your credit in order to do anything in the US, such as buying a car or a new home.
One option that is very popular among foreigners is, opening a secured credit card. The video below explains the pros and cons of a secured credit card, so you can decide for yourself if that is a good option for you.
After my husband and I got married he added me as a co-cardholder to his credit card and I was able to build my credit score that way. However, most of my friends who were in my situation as well chose a secured credit card.
You can talk to your bank about other options. But get on this rather quickly because it will take a while to build credit.
Your educational background might not be enough
This is such a tough topic for most people.
The US might not accept your college degree from your home country. WOW, there you have it. 4 years down the drain. Yikes!
However, if you are lucky you might just need a translation of your degree. I have met some people who used WEZ for these services.
Others, like myself, had to go back to college to get a college degree.
5. After you marry someone from another country you might have to go back to University
As I stated above, you might have to earn additional credits or even get a new college degree in order to make a decent living in the US.
Before you start university, try to have at least some of your previous college credits transferred so you don't have to start from scratch.
Talk to your advisor!
In my case, I did an apprenticeship program in Germany and worked for a lawyer for seven years. This A.A. degree was useless here in the US. Different laws!
I took my chance and changed my career. I earned a BS in Psychology with a minor in Art.
It was very challenging at first because I didn't know what to study. Thankfully, the US allows you to chose a "General Studies" major to explore college courses that interest you.
I had to work next to college to pay for my classes. University is not cheap!
6. Also, you might have to take an entry-level job or internship
After you marry someone from another country you might be faced to accept an entry-level position with a smaller company in order to start your working career.
During my studies, I had to accept an unpaid internship in order to gain work experience in the US.
Working unpaid for three months wasn't easy. But it was necessary to get "my foot in the door!"
Thankfully, I was hired as a full-time caseworker after my internship ended.
7. You might have to raise a family in a foreign country after you marry someone from another country
Raising a family in a foreign country is challenging to say the least. In fact, it is so difficult that I started my blog because of all the challenges I was facing.
Different languages
Multilingual families have to decide on how they want to raise their children! And more importantly, they will have to stick to it.
We are raising our children bilingual, German and English.
My husband speaks to our children in English and I speak to them in German. It's called the OPOL method. We speak English at the dinner table.
But whatever you decide on doing; consistency is the key. I found that engaging in fun bilingual activities with my children has helped me to stay consistent and it keeps my children motivated.
I will share new activities weekly on my Instagram. They are fun and easy to set up.
Different cultures
This is one of the most difficult parts for multilingual families if not discussed before marriage. I see this all the time!
If your partner is from a different cultural background make sure to discuss how you want to raise your children before the wedding. And do not be shy to discuss it in detail.
Are your kids allowed to eat certain foods or food groups?
Are you allowed to take your kids out of the country by yourself?
Do your children need to wear specific clothes?
You get the point!
Different religions
How are you planning on raising your children when it comes to your religion? Also, a big topic that needs to be discussed before marriage or at least before you have children.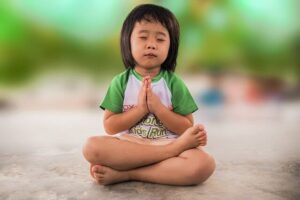 Some people simply assume they would be baptized, etc. However, your partner and/or his family might have other plans.
Talk about it!
8. You might find yourself lonely at times
Moving to another country is exciting!
But after a while, you might find yourself lonely.
Sure, you have your husband and his family and that's wonderful. But it isn't enough.
Women need to make deeper connections with other women. It's in our DNA.
I have a support group for foreign moms on Facebook. Feel free to stop by and say "hello." We know what you are experiencing. And we are happy to answer any questions you might have.
9. You will have to learn to make new friends
Having a support group is so helpful, but you will have to make friends in your community as well.
I know that can be challenging, especially if you are an introvert.
International Mom's Club
Joining a moms club in your area is a fast way to meet new moms. Find your chapter here!
When I joined my local mom's club I made some great connections with other moms. And the best part was that my kids made new friends. Plus, it gives you something to do if you are a stay-at-home mom.
In addition, mom's clubs are very affordable. I paid $25 for the year. That money that will be put back into the club through events and/or gifts for new moms (diapers).
Facebook
I love the mom community on Facebook that is specifically for my area. Simply use the search tool to find a community in your area.
In case you like to workout search for Fit4Mom and No Excuse Mom in your area.
They allow you to work out with your children and make connections to other moms in the process. What's not to love? 🙂
You aren't fit? Well, get fit then. You will find any type of mom there. I promise you that!
In addition, I created my own mom's group in my area for German moms. It's free and definitely one of the best things I have ever done for myself and my children. Plus, my husband made dad friends as well.
Meetup
You can download the meetup app or simply go on their website to find local groups in order to connect with other women.
The best part about meetup is that you can search based on your interest.
Art groups
Workout groups
Social groups by age
Kids activity groups
Hiking groups
Knitting groups
Reading groups
You can pretty much find any type of category on meetup.
10. You will have to carefully consider your future after you marry someone from another country
When you move to another country do yourself a favor and think about your future.
You don't want to find yourself in a difficult position when you are older. Save up for retirement as soon as you have your first job.
I cannot recommend the book by Dave Ramsey enough. This book will help you to save some serious money over time.
Not enough people contribute to their retirement savings. Don't be one of them.
Support
Marrying my husband was one of the best things I have done in my life! But being married to someone from another country is hard. And that's okay. I want you to know that you are not alone. Please feel free to reach out to me or my support group whenever you need someone to talk to.
I know what you are going through and I'm here to help.